At its core, cyber security protects your sensitive information and systems and keeps your data from falling into the wrong hands. It is the body of technologies, processes and practices that protect your organization's technology—computers, networks, programs and data—from attack.
There is no one-size-fits-all solution when it comes to cyber security. Our main objective is to ensure the availability, confidentiality and integrity of our your most critical data.
Heptagon excels in the ability to secure your digital environment. We make sure our clients' systems meet the latest security and information assurance standards and beyond.
At Heptagon Information Technology, our goal is simple: to secure and protect your technology, hardware and information from malicious breaches and attacks. But while the goal is simple, the implementation can be difficult – that's why we're the go-to information technology company for government agencies and high-profile corporations throughout the U.S.

Through our widespread insight into the cybersecurity arena, we help agencies meet the latest security and information assurance standards. By going above and beyond when utilizing industry standard best practices and procedures in assuring information and managing risk, Heptagon IT exceeds in the ability to secure your environment that go beyond today's expectations. Our security experts monitor and work closely with other cyber entities to maintain accurate databases of knowledge when it comes to compliance monitoring, auditing, and reporting.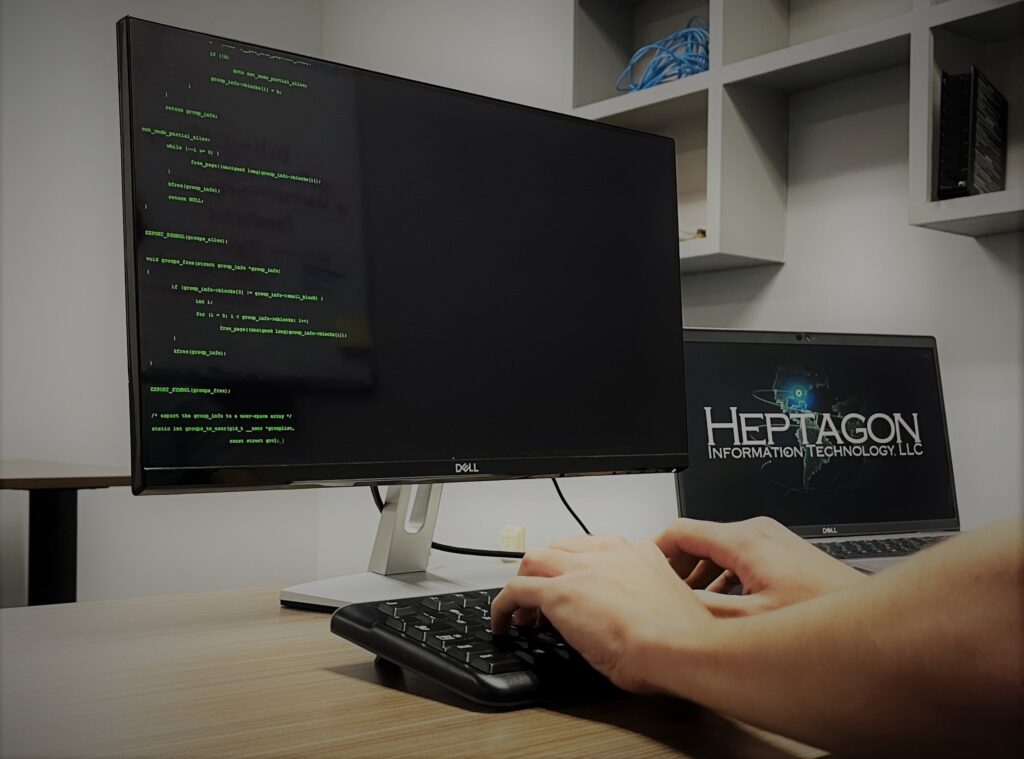 We employ a four phase approach to cyber security
At Heptagon, our objective is to expand our understanding and knowledge of the latest innovations and developments in data networking to ensure that our clients maintain and improve their requirements and capabilities. Our team is comprised of experts in their respective disciplines.
Government and business enterprises turn to our experts for the complicated task of network and cyber security monitoring, management, and troubleshooting. We analyze customer requirements and develop solutions that fully satisfy those requirements. Our solutions are always customer-driven and derived from the requirements and capabilities expected by the clients. We will guide them to the solution and best technologies that fit their needs.
We practice a four-phase approach to cyber security. When our clients become highly effective at each lower-level phase, the higher-level phases can then be implemented successfully. Our methods don't have you jumping in with both feet all at once. We ensure the cyber security basics are covered before moving into more in-depth security measures. In short, you excel at each level before moving on (much like in your video games).
Business Process Analysis/Critical Data Identification
We review your business processes and identify the types of critical data stored within your infrastructure.
Infrastructure Remediation
Simply put, we identify gaps in routine system maintenance and help automate the time-consuming software patching and upgrade cycles. This frees up your internal IT Staff to focus on tasks that cannot be automated.
We make sure firewalls, anti-malware, anti-virus, intrusion detection and intrusion prevention are being used to the full extent of their capability.
Implement Active Defenses
We create a custom active defense strategy and train your internal IT staff to identify active threats and make quick decisions to neutralize those threats.